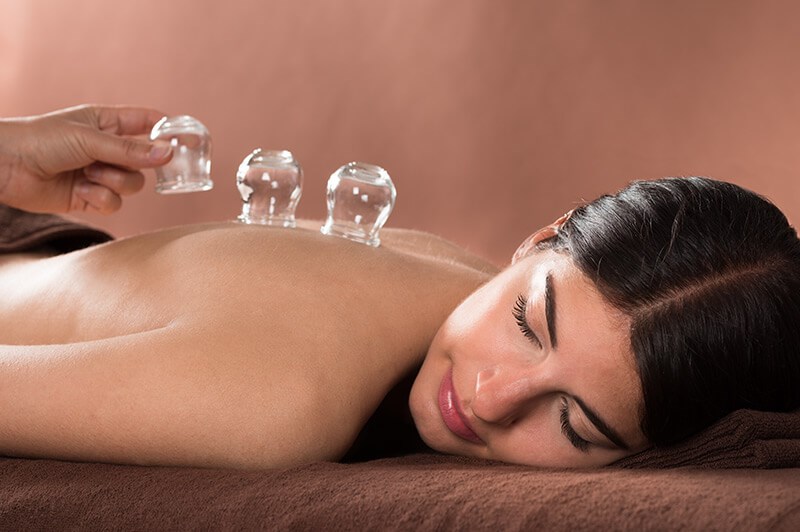 Fire cupping is a modality of Traditional Chinese Medicine that uses glass cups placed on the skin. The cups are then heated with flame to remove oxygen and create a suction against the skin.
Cupping is often considered the reverse of massage. With cupping, tissues and muscles are pulled upward by the suction of the cups. This allows for deep tissue work without the pressure used in a massage.
Fire cupping can relieve pain by manipulating the fascia and activating specific trigger points in the body. It also enhances circulation in targeted areas of the body and positively affects the nervous system.  
A few things you should know about our cupping services are:
Skin discoloration can often occur after cupping, but it's rarely painful (if at all) and will last for only a few days. This depends on the amount of toxins removed from the body; Cupping services can be combined with massage and other treatments; We're fans of traditional fire cupping, but we also offer cupping with silicone cups and plastic pump cupping.
Book Your Appointment
Contact Us
Our clinic is on an appointment-only basis. You can get in touch with us via text message, phone, or our online booking system. We aren't always able to answer the phone while we're with clients, but you're welcome to leave a message. We'll always get back to you as soon as we can.
Please note that our clinic is located within the Advanced Physiotherapy clinic. For more information on how to get here, see our information for new clients.
---
9174 23 Ave NW
Edmonton AB,
T6N 1H9